Welcome to the ESTEEM Counseling and Consulting Services, LLC, Nathalie D. Ellis, LPC, NCC, CPCS Secure Client Area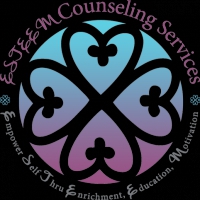 ESTEEM provides individual, family, group, and couples counseling to children, adolescents, adults, and couples.

Thank you for choosing ESTEEM as your mental health provider. At this time, the practice is at FULL CAPACITY, but does have a WAITLIST. If you choose to resume, register your information then add your name on the waitlist under calendar.

Click on the link to get a Mental Health Therapist Referral List: https://docs.google.com/document/d/e/2PACX-1vRJABKV1U7KWpOtFkIeKM1DO00q1XGFDubUDMVw7SEtJ3SMSFW-6y2HY_PKmHidc-TMncNInwR_soil/pub

Click on link to purchase your Paperback/Kindle Version of "How to Stay Mentally Healthy: A Guided Workbook on Self-Awareness and Self-Discovery" as a therapeutic guide in therapy.
https://www.amazon.com/~/e/B08GCCS1XW

For further information, please contact Nathalie D. Ellis, LPC at info@esteemcounselingservices.com.
Log in to the secure portal.